By CHUCK OFFENBURGER
JEFFERSON, Iowa, Oct. 29, 2023 – A couple of big thoughts have been on my mind in recent days.
My wife Mary Riche and I have just returned from a long driving trip to Boston and back. We looped from Oxford OH, Niagara Falls & Buffalo, Boston, Annapolis, Pittsburgh and the Indianapolis suburb of Carmel. Two weeks of breathtaking beauty in primetime autumn.
The adventure also gave us a whole lot of contact with the very mixed population of our nation and its visitors. In major cities of the East, in small towns, too, and in the interstate highway rest stops all along our way, we were surrounded by people of many colors, heritages and languages.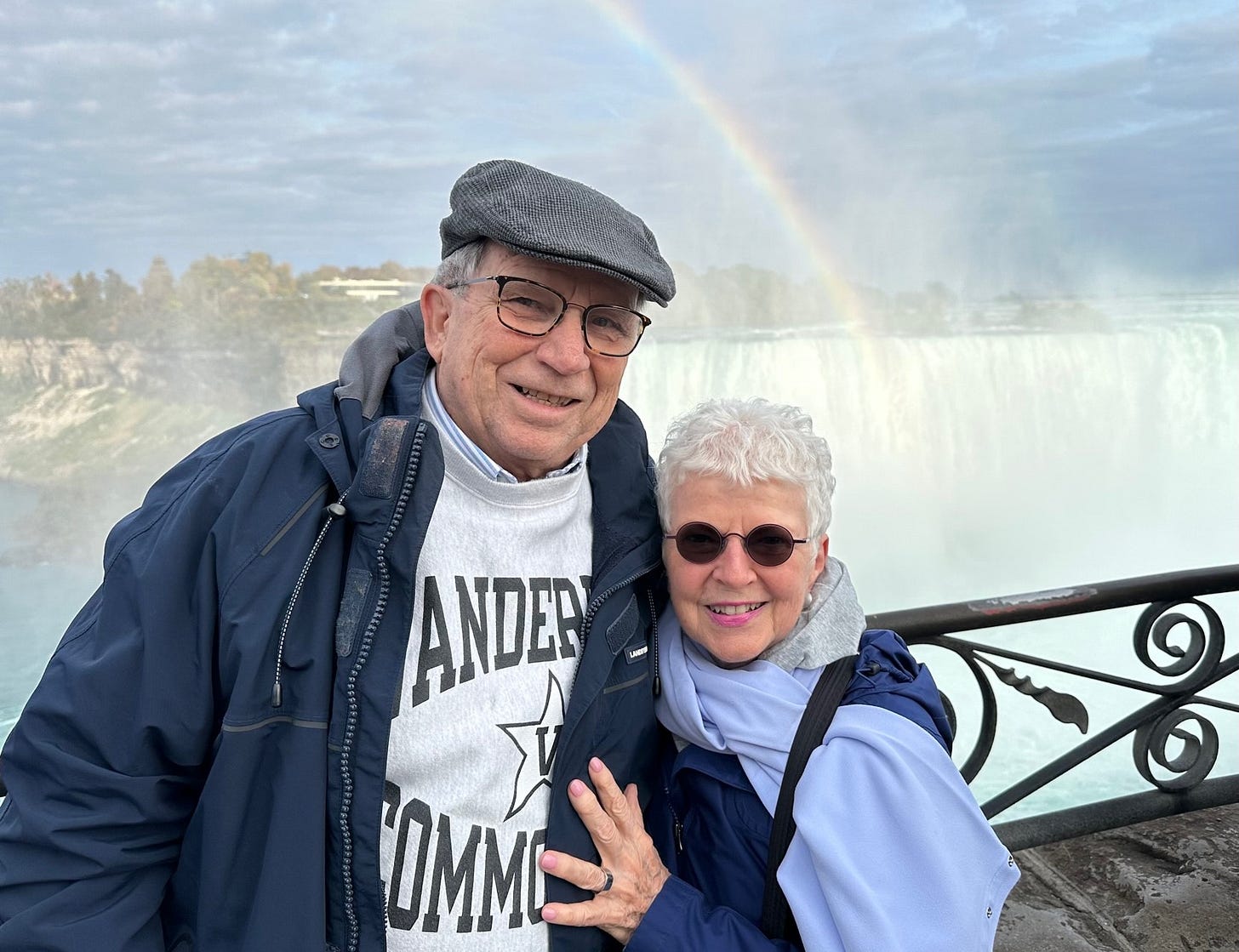 A rainbow couple at Niagara Falls.
They were with us as we walked Boston's "Freedom Trail," stopping at some of the most significant spots in early American history. And we were all together at the John F. Kennedy Presidential Library & Museum, where you can't help but be inspired. So many reminders of the freedom, hope and opportunity America gives to people born here and to those who come here from around the world.
So, here's the first big thought that now lingers with me: America's real beauty isn't its autumn colors or natural wonders; rather, it is our multiculturalism. We are called by God, law, history and common decency to respect our equality, and to help and lift each other. If you find yourself on the other side of those principles, sooner or later, you're going to lose.
My second big thought right now is that it was two years ago this weekend that Sid Jones, then the president of Jefferson's Home State Bank and also president of the Greene County Development Corporation (GCDC), stopped me in the pancake line at the Kiwanis Club's annual fundraising breakfast. He asked if I'd heard about GCDC's new diversity initiative and if I'd get involved. I said yes and yes.
The economic development group was alarmed to hear from the major employers among its membership that there were more than 200 open jobs at that time. One company had opened a new branch operation in Mississippi to access a larger labor pool. And the future looked, and still looks, even scarier because so many aging Baby Boomers in our business and farming operations are nearing retirement.
What makes Greene County's situation different from other rural Iowa communities is that we are blessed with a strong manufacturing base. We have five home-grown companies that are all basically in metal fabrication and make very interesting products that are shipped and sold around the world. And they've had unusually strong home-area loyalty, thank goodness.
Those include New Way Trucks, of Scranton, making top-selling garbage and recycling trucks; American Athletic Inc.-Spaulding in Jefferson, making the best gymnastics and basketball equipment; Power Lift in Jefferson making weight-lifting machines and free weights used by top college and professional sports teams; John Deere of Paton making huge planters and other ag machinery; Bauer Built Manufacturing, also of Paton, making components for Deere and innovative metal products for other companies.
Our other large employers, also struggling to fill open positions, are the Greene County Medical Center and Wild Rose Casino & Resort, both in Jefferson.
The open positions are at all levels in all those companies. Pay of $20 per hour and higher is not unusual, and the employers offer good benefits and retirement programs.
The best answer, GCDC concluded, is to grow both the workforce and the general population. Recruit younger workers. And to minimize turnover and enhance growth in our retail businesses, schools, civic organizations, churches and all other institutions, let's recruit the new workers' families, too.
The reality of life in rural Iowa today is that if you want your community to grow, you need to do the same thing our ancestors did 100 to 140 years ago – open up and be welcoming to newcomers from other cultures and other places. It worked back then, and it works now.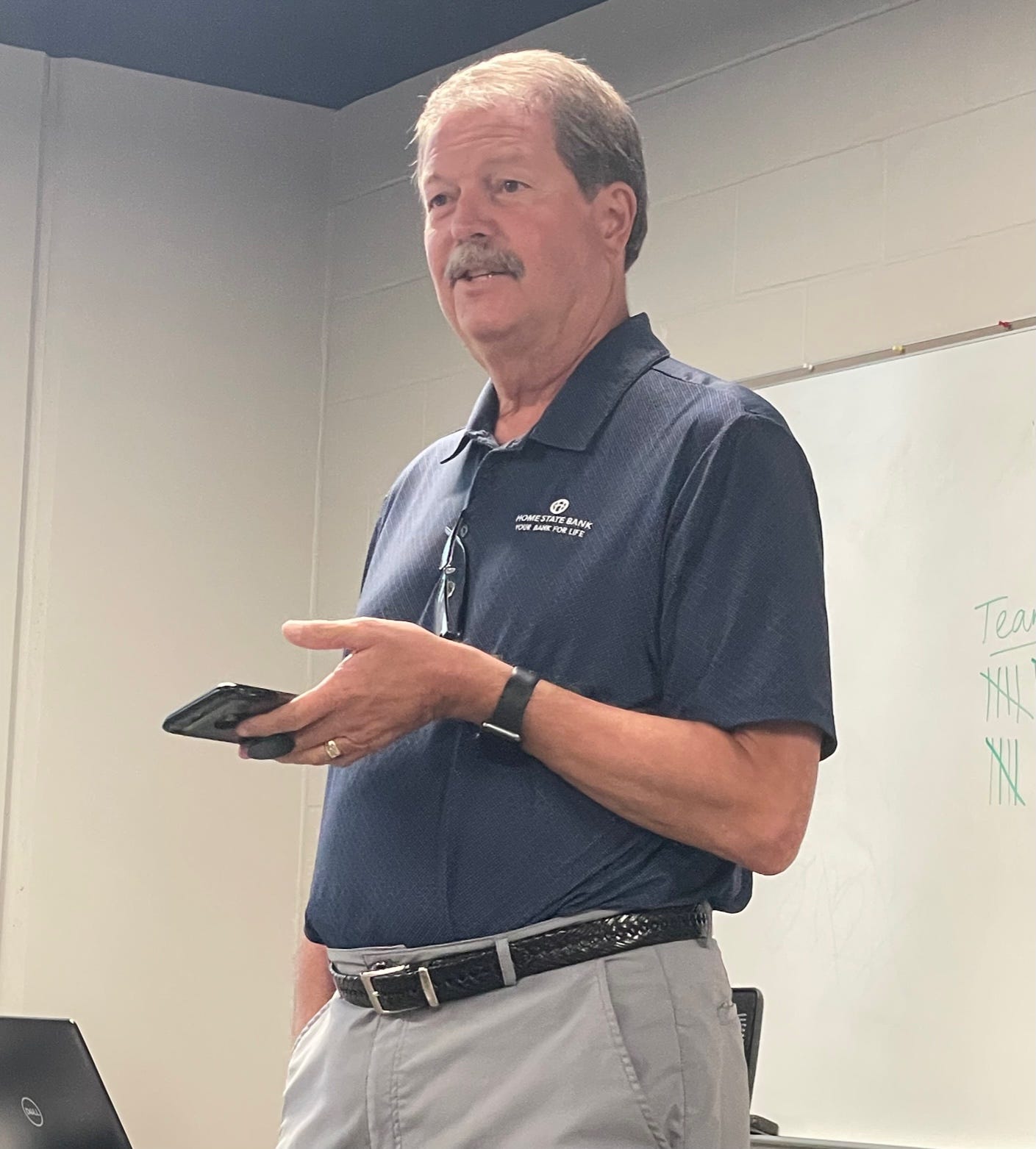 Sid Jones, the GCDC president.
Jones knew that I'd witnessed, wrote about and helped make diversity work in the five years I lived in Storm Lake in northwest Iowa. That was 1999-2004, before I moved to Greene County, which is 50 miles west and north of Des Moines.
So I got involved here, really involved. I am the chairperson of the steering committee for what we at first named "Nueva Vida en Greene County" – meaning "New Life in Greene County" – but later changed to the "Multicultural Family Resource Center."
We made the change because the Spanish rankled some people and because the new name more accurately reflects that we're welcoming and recruiting people from all cultures, and that we are mobilizing to help the workers and their families get comfortably settled and involved in our communities.
Census reports tell us that Greene County's total population in 2020 was 8,717, half what it was from 1900 to 1940. Jefferson's population now is 4,136.
Currently we have about 300 people of Latino heritage in Greene County, not because of GCDC's efforts but because they were recruited here by individual farmers or businesses. The Greene County Community Schools have about three dozen "minority" students, mostly Latinos.
Most people here acknowledge there will be many more, because Latinos are the fastest growing population demographic not only in Iowa but the entire U.S.
It's a bold move Greene County is making. But we haven't made as much progress with our multicultural initiative in these past two years as I had hoped.
What's held us back is a lack of housing – a common problem all over rural Iowa – and finding the funding to hire a director of the Multicultural Family Resource Center and to start its work.
But there is good news, too.
Because the story of Greene County's determination to grow the workforce and population has spread far and wide, we have had two contractors come in from the Des Moines area with the resources to propose and start construction on major housing projects in Jefferson. They are Rowland Real Estate and Kading Properties. Local contractors are involved, too, but they've been limited on bigger projects because they are already plenty busy, and can't hire enough people to expand their crews.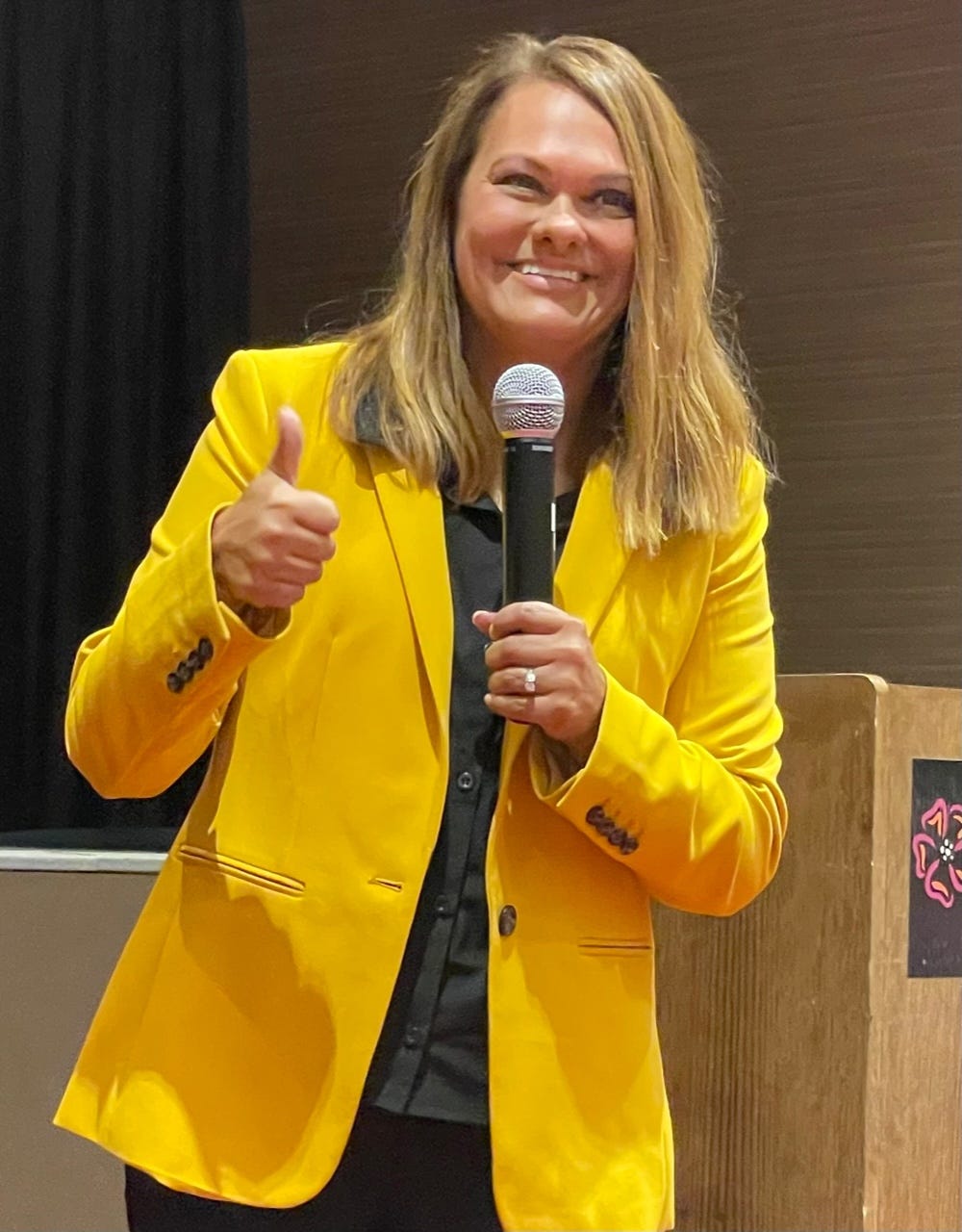 Karie Kading Ramsey, the CEO of Kading Properties, based in Urbandale, as she spoke in Jefferson describing her company's proposal to build a major housing project in Jefferson.
Another positive, GCDC in late summer received a $95,703 U.S. Department of Agriculture Rural Development grant to cover a first year's costs of the multicultural center and its program. And the organization has launched a $300,000 fundraising effort to cover the costs of a second, third and fourth year of operations. We believe we need to be able to make at least a four-year commitment to attract a director with proper credentials and experience for the job.
About one-third of that $300,000 goal has been pledged – including $1,000 per year for three years by Mary Riche and me. There surely must be at least 100 other people in Greene County that believe in this as much as we RicheBurgers do, aren't there?
More help is needed, of course, and we think it will come from our large employers, other businesses, civic organizations, other individuals and possibly our local governments.
As exciting as significant growth is and should be for a rural Iowa community, it is frightening for some people.
Tori Riley, editor and publisher of Greene County News Online, wrote in an Oct. 20 column that there is resistance. Some of it is whether we need all the new housing proposed, and whether it will mean heavier burdens for local taxpayers. She says those are questions that GCDC and public officials must address. We're doing that. Some people don't seem to hear us.
"Probably more worrisome for me is the underlying current against our community welcoming newcomers," Riley wrote. "…GCDC's plans for a Multicultural Center – an organized effort to bring Latinos and other diverse populations to the county – comes at the same time as the Kading project and translates to some as an assault on the prevailing Whiteness of Greene County. There is fear that a new housing project would be filled with 'those people,' those supposedly lawless people who would threaten our comfortable 'culture,' as some who oppose the project have called it. One way to be sure 'those' people don't move here is to limit the availability of decent housing. That's where I step away from those who argue against the project."
What she's talking about there is racism.
And thank you, Tori Riley, for courageously doing so.
You know, the garbage and recycling trucks we produce in Greene County are being purchased and operated in diverse communities around the world. The gymnastics equipment and basketball goals we make here aren't just used by White athletes. Ditto for the weight training equipment. Lots of farmers from other cultures are driving John Deere machines made in little Paton across huge fields in Brazil and other countries. Our grain, pork and beef are harvested, processed, shipped and consumed by people of nearly all races.
Do we not respect our customers? Would we not welcome them here?
So let me refine my second big thought to this: Multiculturalism is not a threat to Greene County. It's our salvation.
As I said earlier about America at large, I say here specifically about Greene County, Iowa: We are called by God, law, history and common decency to respect the equality of all people, and to help and lift each other. And if you find yourself on the other side of those principles, sooner or later, you're going to lose.
And here's how Greene County wins: First, all good people must stand against racism when we see and hear it. We become a truly welcoming community. Then we build a multi-cultural workforce, we use the Iowa work ethic, and we produce for the global economy. And, oh, will we grow!
—
You can comment on this column below or write the columnist directly by email at chuck@offenburger.com.
—
To answer questions about the large Kading Properties housing project proposed for Jefferson, the Greene County Development Corporation prepared the following report with detailed information. If you're interested, please take time to read and consider it. You can access it by clicking right here.